Guest Reviews
Over the years Hugh Rose Photography has had the pleasure of guiding guest to some of the most
remarkable places on earth! Here are a few reviews from past adventures.
Hugh is not only an exceptional guide, naturalist and world class photographer. His personal skills are superb allowing all to feel welcome, involved and engaged whatever the conditions or circumstance. Having undertaken numerous trips under his care and guidance I would highly recommend him without hesitation. Can't wait for the next trip!
Hugh has made the impossible possible for me. Travel that was too remote, too difficult, too advanced for my photography skills has been happily accomplished with Hugh's careful leadership. With his guidance, I have traveled the Dalton Highway beyond the Arctic circle in winter, successfully photographed sky shattering aurora, watched bloody mouthed Polar bears gnaw whale bones, and learned that during hibernation an Arctic ground squirrel's heartbeat can drop to one beat per minute- ALL astonishments for me!
Daunting tasks were transformed into playful times through his skill, patience and good humor. Cold and darkness proved no problem and we would find ourselves laughing and whooping as the aurora unspooled above us. Long drives were constantly interrupted for musk ox photo ops, gaudy red and yellow landscapes, and learning about Alaskan history and wildlife through Hugh's vast knowledge.
Of course I hope to travel with Hugh in the future- I want even more joyful personal experiences of our astounding natural world!
Photographing polar bears in Alaska is amazing. Experiencing the Dalton Highway with wildlife and scenic photography along the way, a historic gold mining town (and possible northern lights), the "Northslope," and a Native Village makes for a special trip. All of these "bucket list" sites are put into perspective by Hugh's incredible knowledge of Alaska's history and politics dispensed along the way.
Yes, I am a fan of this trip and consider the tours I've done with Hugh among the best I've had!
Just today I began to write a short description of what it is like to go on an ecological tour with Hugh Rose and I decided the best words are the ones I already wrote to a friend immediately following our trip to Alaska in 2016. These were my very words then. "You might be wondering who is this phenomenal guide I keep writing about? Hugh Rose has been guiding trips to Alaska, Antarctica and Galapagos for decades. He resides in Fairbanks, Alaska. After three weeks with Hugh we became convinced he knows the name of every bird, mammal and flowering plant in Alaska and can describe the identifying features of each one. He is very knowledgeable about legislation that affects wilderness, parks and wildlife. Quite an amazing guide! He describes himself as a realist who recognizes Alaska's dependency upon oil and gas production and recognizes the tradition in Alaska of harvesting some game and fish for consumption. But he firmly believes there must be sensible limits to ensure the preservation of wilderness and healthy populations of wildlife of all kinds. He recognizes that wolves and bears have intrinsic worth." Humanity is intimately connected with nature in many unseen ways and we are meant to live in harmony with nature.
Hugh Rose absolutely gets that and can help you to connect with nature in some of the most spectacular wildernesses of the planet.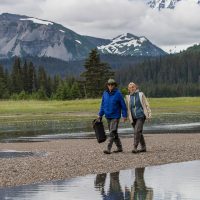 What makes Hugh Rose such a good photographer, and his photography trips so much fun, is his passion for the experience itself. He uses his experience and vast knowledge of the natural world to create those 'serendipity' moments—when the light, action, and surroundings come together for not only good photographs, but indelible memories. I don't think I've ever come away from a trip with Hugh Rose without a better understanding of both photography and the places we've visited, from the geology to the flora to the wildlife.
He consistently goes the extra mile or stays the extra hour to make sure we're getting the best possible experience and the highest possibility for successful photography. His trips are not to be missed!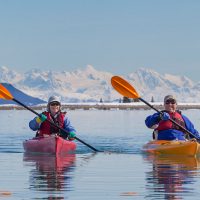 We have participated in Hugh Rose guided photography trips for many years. These multiple trips include travels from the Arctic to the Antarctic; with the Galapagos Islands in between. Simply put, Mr. Rose represents the platinum standard for guiding excellence. His knowledge of photographic technique, along with an amazing depth of knowledge concerning the history and natural history of the regions traveled, offer his clients a richness of experience that few other guides provide. Hugh apparently loves what he does and his level of enthusiasm absolutely adds to the experience.
We highly recommend his guided trips to anyone interested in adventure travel.